'tis the Season, Part 4: Les Yums!
For the longest time, I lived in apartments with limited kitchen space and a severe absence of dishwasher technology. So, when it came to holiday baking, I tended to shy away for the most part.
The thing is – I'm a bit of a superstar in the kitchen.  No, seriously. At the same time, I'm really quite lazy. So the prospect of having to hand wash all those extra dishes was unappealing enough to keep all my Martha Stewart-esque leanings at bay.
This year, however, things have changed. I have a kitchen that has enough counter space to let me and all my naturally clumsy tendencies manoeuvre about freely & unscathed. And, best of all, it has a dishwasher: a shiny, spankin'-new stainless steel, wonder-of-technology and slayer-of-dishpan-hands dishwasher. Truly, it is a thing of beauty.
Our first Christmas in our Rockstar House, however, we'd only just moved in (I'm talking: got the keys and hauled our stuff in 2 short weeks before Santa and his helpers set out on their big journey) so I did well to find knickers to wear, never mind muffin tins.
Last year, I was still convinced that every calorie was out to get me.  I'm pretty sure they are. But I've since learned to run long distances and they aren't as good at catching me anymore.
Christmas 2010 is the year I've decided to regale my loved ones with my culinary prowess once again. But, instead of the super-rich, stick-to-your-thighs, shrink-your-pants recipes I'd mastered lo those many years ago, I decided to go another route.  This year, I trolled around the web and found some tasty treasures that I was able to adapt into healthier renditions or, at the very least, versions with fewer calories than found in their original form.
My big weakness, when it comes to delighting my palate, is peanut butter. Truth be told, I'm perfectly happy to eat it straight from the jar. I know. Pretty civilized, right? I didn't say I was proud.
My first adaptation came in the form of these über-tasty (if I do say so, myself) Peanut Butter Oatmeal Cookies. My husband doesn't have a particularly pronounced sweet tooth, so I wanted to be sure that whatever I made with peanut butter would be something he'd help to eat (because – let's face it – left to my own devices, I'd just end up inhaling the entire batch on my own.) Thankfully, he's a sucker for cookies of both the oatmeal & peanut butter persuasions. So combining the two seemed like a win-win. As it happens, I was right. I've already made two batches of these bad boys.
Ingredients
1C margarine (2 sticks), softened
1 C natural peanut butter
1 C Brown Sugar Splenda
½ C Egg Beaters (or 2 large eggs)
1 tsp. vanilla
½ tsp. salt
1 tsp. baking soda
2½ C rolled oats
1½ C whole wheat flour
Directions
Preheat oven to 350

°C

Combine softened margarine and peanut butter in a large bowl

Add Splenda & egg beaters and mix until smooth, fluffy and glossy

Stir in vanilla

Add salt, baking soda, oatmeal and flour

Stir well

Spoon onto an ungreased cookie sheet & flatten with the back of a spoon or a fork

Bake 12 to 15 minutes
Makes 45 medium/large cookies.
(warning: I'm pretty sure these are habit forming)
Don't think peanut butter or oatmeal are quite festive enough on their own?  How about Cranberry Almond Oatmeal Cookies (made with pumpkin purée & whole wheat flour, instead of butter & the processed-beyond-the-telling-of-it white stuff) that are moist, chewy and full of seasonal spice!
Thanks to SparkRecipes (and if you don't already know about this site, you need to go to there – immediately!) I didn't have to make any alterations to this yum-tastic concoction and simply followed the recipe as found.
Ingredients
1 C canned pumpkin (pure pumpkin, not pie filling)
½ C cup brown sugar Splenda
½ C Egg Beaters (or 2 large eggs)
1 tsp. vanilla
1½ C whole wheat flour
1 tsp. baking soda
1 tsp. cinnamon
1 tsp. pumpkin pie spice
½ tsp. salt
3 C rolled oats
1 C dried cranberries
½ C slivered or sliced almonds
Directions
Heat oven to 350

°C

Beat together pumpkin and sugar

Add eggs and vanilla, beat well

Add flour, baking soda, cinnamon salt ; mix

Stir in rolled oats, cranberries & almonds

Drop rounded spoonfuls onto ungreased cookie sheet

Bake 10-12 minutes
Makes 45 cookies.
I realize that not everyone has the time, nor the inclination to go all Battle of the Food Network Stars simply because it's the holidays. So for those of you who can't be arsed with baking… but don't want to bring a bag of oreos to your company pot luck: get ready to start falling in love with me. Weezie's Easy Peasy Chocolate Bites are bound to change your life!
I found a recipe that needed a tiny bit of tweaking. But it still only involves 3 main ingredients . And you'll look like a rock star when you show up with these in tow.
Here's what you need!
Ingredients
1 package (250g) Philadelphia Light Cream Cheese
1 Cake Mix (I used Betty Crocker Super Moist Devil's Food)
1/4 C Margarine
to sprinkle on top:
1 tbsp. (approx.) cocoa powder
1 tbsp. (approx.) icing sugar
Directions
Preheat oven to 350°C

Soften cream cheese & margarine in microwave & mix together in large bowl

Add cake mix & combine well

Roll into balls (approximately 1″)

Place on ungreased cookie sheet

Bake 12 minutes

Dust lightly with cocoa powder & icing sugar while still warm
Be sure to store these guys in the refrigerator (they do have cream cheese in them, after all!)
This recipe makes 72 to 75 chocolate bites – enough to share with the whole class!
And when you've got a plate of yummy, tasty Christmas cookies is there anything that washes 'em down better than egg nog?
Nope.
Assuming, of course, you don't have any spiced rum on hand. If you do, then I'm afraid your plain ol' eggnog has just been trumped. You've already saved yourself a whole buttload of calories with these recipes. Go ahead and treat yourslf: add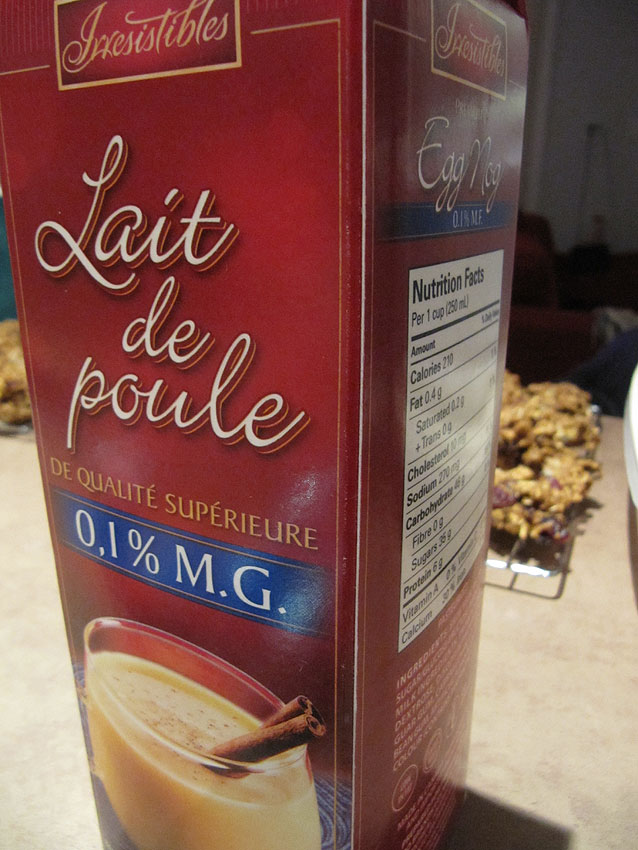 a few back in with some bottled holiday spirits. I mean, with what's already in the eggnog, what's an extra 60 or 70 calories? Exactly. I'm sure as hell not judging.
Oh, and if anyone can tell me why the marketing geniuses in Canada never stopped to think, "hey, that's pretty gross," when they signed off on Lait de Poule (literally: chicken milk) for their packaging, I'd be curious to hear about it.
I have to wonder if francophones actually drink eggnog.  You have to admit, that has to be one of THE worst product translations ever. It's almost enough to turn me completely off the 'nog. Almost. But then I remember the spiced rum.